Create Inspirational Art with Leila Parnian's Resin Art
USE COUPON CODE AT CHECKOUT
LeilaP10
Learn the Art of Dirty Pour and Get 10% Off Your Order
Leila Parnian is a renowned resin artist who specializes in dirty pour bar tops, canvas artwork, and custom designed furniture. She has developed her own technique - TheraPour & PartyPour - to help unleash the inner artist in all of us. With her step-by-step guidance, you can create beautiful artwork that will leave a lasting impression. Plus, she'll show you how to use Promise Table Top Epoxy to seal and protect your masterpiece.
Building an Art Business With Leila Parnian
Leila's artwork is a testament to her passion and her ability to create emotional pieces that are both beautiful and bright. Leila's journey as a resin artist began in Scottsdale, Arizona with her first resin project - a black light table top for a local business. From there, she has continued to hone her craft, creating inspirational work that is loved by many.
Any epoxy hacks you're willing to share?
"I know it's frowned upon to use an epoxy drill mixer, but it saves me a lot of time on mixing 10-15 gallons for some of my bigger projects. You have to be very careful with using this because it can create air bubbles in the epoxy to the point where a torch doesn't get them out. So I recommend for more experienced users. Another trick - have toothpicks handy to get out anything that might land in the epoxy (I have had little bugs land in it and this was helpful having the toothpicks)."
Favorite epoxy project you've ever done?
"I have 3 - Schmooze black light table top because it was my first one. Silverleaf Gold Club because it was a very challenging outdoor project for a beautiful private Country Club in Scottsdale, and Little Anitas Restaurant in Chandler."
What got you into being an artist?
"It runs in my veins! It has become the ultimate outlet to express my true self, and it brings me immense joy and fulfillment. I can't help but radiate positive energy when I engage in it!"
Social media tips for artists looking to build their business?
" 1) Get out there and market yourself! Share your incredible story with the world!
2) Invest in running sponsored ads and make yourself known
3) Keep posting regularly and don't forget to show off your amazing process through awesome clips!"
Why do you continue to create artwork?
"It's a form of therapy for me. I also want to continue growing to inspire other creatives to follow their dream and passion and that is very possible to be an artist and not starving."
Least favorite epoxy project you've ever done?
"I did a clients existing dining table top and it was curved with a metal trim. It was SOOOOO hard to get the epoxy off the edge, even with all the tape I used. I will never do a project with metal trim again."
Learn the Art of Dirty Pour
Leila's innovative "dirty pour" technique blends multiple colors of paint in one cup, delivering mesmerizing patterns when poured onto the canvas. Leila Parnian is a resin artist who specializes in TheraPour and PartyPour artwork. She has been creating her unique art form for years and has become well-known for her captivating pieces. With Leila as your teacher, you can learn how to create your own beautiful artwork in a safe, supportive atmosphere.
Expert guidance in every step: Learn step-by-step from Leila Parnian, who has years of experience working with epoxy resin.
Customizable to your taste: Embrace your creative freedom with personalized color selection and limitless possibilities.
High-quality materials with a discount: Leila uses Promise Table Top Epoxy for excellent protection and a high gloss shine. Plus, enjoy a 10% discount on your epoxy resin products with her code: LeilaP10.

Fore more tips and tricks be sure to check out Leila's social media!
Learn From an Expert - Discover Leila's Favorites
Leila is an official Promise Epoxy affiliate, which means you can get 10% off your order when you use her coupon code LeilaP10. Get started crafting your own unique artwork with the help of Promise Epoxy and Leila Parnian Art.
Top 3 Tips When Working With Resin


1. BE PATIENT
Working with resin is not something that can be rushed - be sure you are patient with every step of the process from prepping, measuring, mixing and applying. If you rush any steps, you can ruin your entire project.
2. MIX THOROUGHLY
Sometimes if you do not mix it properly, you may not see it right at that moment, but a couple days later, you will see the areas that were not mixed.
3. PRACTICE
Practice on smaller pieces before you work on large surfaces. Have fun with it and practice, practice, practice!!
Watch Process Videos From Leila Parnian Art
Save Time & Money With Our Epoxy Calculator
The epoxy calculator helps you accurately estimate the amount of epoxy resin you'll need for your projects, ensuring you don't waste a drop.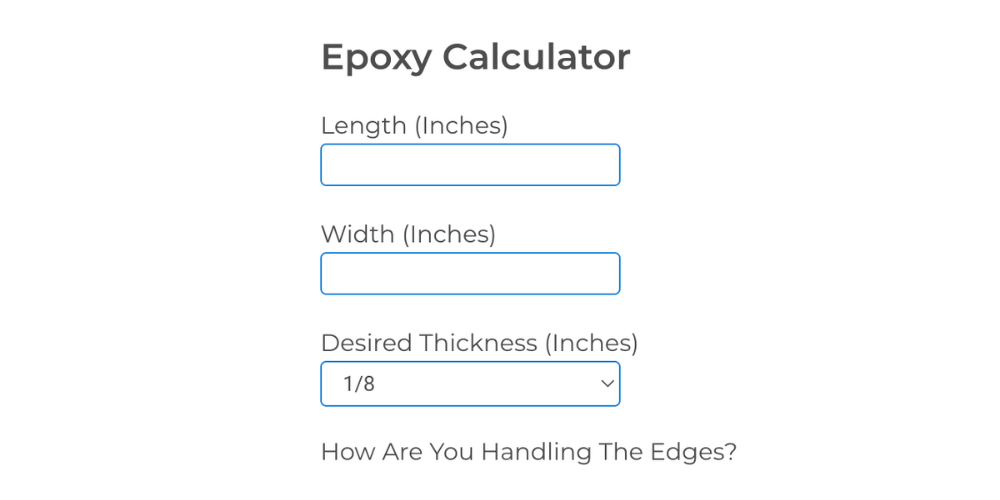 Use the code LeilaP10 at checkout for 10% off your order