Posted by vlearmont@polytek.com BigCommerce on Oct 5th 2023
How to Create a Stunning Honey-Themed Dining Table Using Epoxy Resin
-------------------------------------------
Epoxy resin has been widely used in woodworking projects, especially in creating river-style tables. But what if you take it a step further and create a unique dining table using honey as an inspiration? That's what Dave from Berserker Woodwork did, and we're excited to share his journey with you. In this blog post, we'll outline process of creating a honey-themed dining table using Promise Deep Pour Epoxy, Table Top Epoxy, and explore why it's the best resin for river tables. Plus, we'll have a closer look at Berserker Woodworking and their winning entry in The Epoxy Showdown, including a special deal for everyone so you can make your own version of this winning table!
The first step in creating a honey-themed dining table using epoxy resin is to choose the right tabletop slabs. The good thing is you have options! When selecting the appropriate wood for your woodworking project, the choice depends on several factors, including the design, style, and intended use. Different wood species vary in their level of hardness, so if you plan on using the wood slab for a functional piece like a chopping block, it's recommended to opt for a highly durable and robust wood, such as walnut, cherry, or oak. You'll want to make sure you cut down your slabs so they are close to the same size and thickness.
When prepping your honeycombs for this river table, you'll want to make sure you dry them completely before adding any epoxy. Similar to how you must dry flowers completely before you encapsulate them, honeycombs are the same way. If you are using faux honeycombs you can skip this step. Below you can see that Berserker Woodwork coated his honeycombs in Table Top Epoxy and added a soft gold pigment to give them an extra honey look before the deep pour.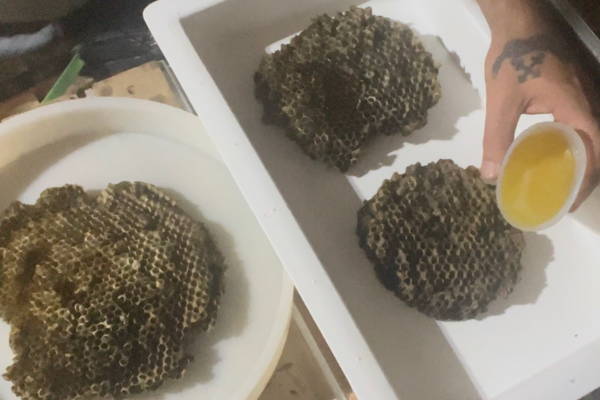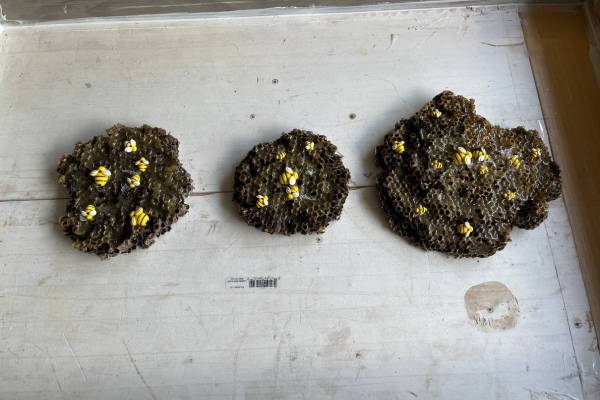 When working with large or river pours of epoxy, it's important to ensure proper containment. One effective method is by constructing a custom box that perfectly fits the wood you intend to pour into. To prevent any potential leaks, apply caulk where the sides of the box meet the bottom. Once the caulk has dried, seal the bottom and sides of the box with sheathing tape (also known as tuck tape), which can be easily found at any hardware store. This tape serves the purpose of preventing the epoxy from sticking to the wood. Lastly, it's essential to ensure that the form is level in all directions. This will help to achieve a flat and even epoxy surface.

Mixing & Pouring The First Coat

Before mixing your first batch of epoxy for the first pour, be sure to use an epoxy calculator so you know about how much you'll need. You can use our epoxy calculator here. We recommend mixing a little bit extra to account for any errors or mistakes that may happen along the way.

Our epoxy is supplied in two bottles - one containing resin and the other with hardener. Measure out the two parts from each ottle according to the instructions on the label and combine them in a mixing cup. Promise Deep Pour Epoxy is a 2:1 mixing ratio by volume. Next you'll want to stir until your arm begins to fall off. Just kidding! But you do want to mix thouroughly until both parts are homogenous. The slower you stir the better to eliminate extra air bubbles entering the resin. If you prefer, you can enhance the appearance of your project by adding pigment powders or dyes, but for this project we recommend keeping it crystal clear. Remember, it's crucial to ensure that your project surface is completely level, so that the epoxy can settle evenly. Because you're working with chemicals be sure to work in a well ventilated area and use proper protection like a ventilator.

Berserker Woodwork used about 3 gallons of Promise Deep Pour Epoxy for the river pour. You can learn more about Deep Pour Epoxy here, or checkout our video tutorial on how to mix, measure, and pour the resin.
Use his code BWW for a discount on our resin.
Ask questions and do research . The best way to learn is ask questions. But that's only going to get you so far eventually your going to have to do it.
- Dave from Berserker Woodwork
Once the epoxy resin has cured, remove any drips and sand the surface using a belt sander and 120-grit sandpaper. Be careful not to sand too much of the epoxy off, though. If there are any mistakes or pockets that did not get filled in properly be sure to go back and fill them in with epoxy. After every time you add more epoxy, let it cure until dry. Sand lightly between layers with 400-grit sandpaper until you're happy with the result. Then you're alost done!
For this particular project, Berserker Woodwork has skillfully engraved honeycomb patterns and personalized text onto the table's top layer. If you prefer the natural appearance, you may choose to skip this step. However, if you desire a bespoke touch, make use of the available tools to infuse your own custom style. Just like Van Gogh who signed his paintings, you also have the option to initial your projects, adding a personal and unique touch to your creations.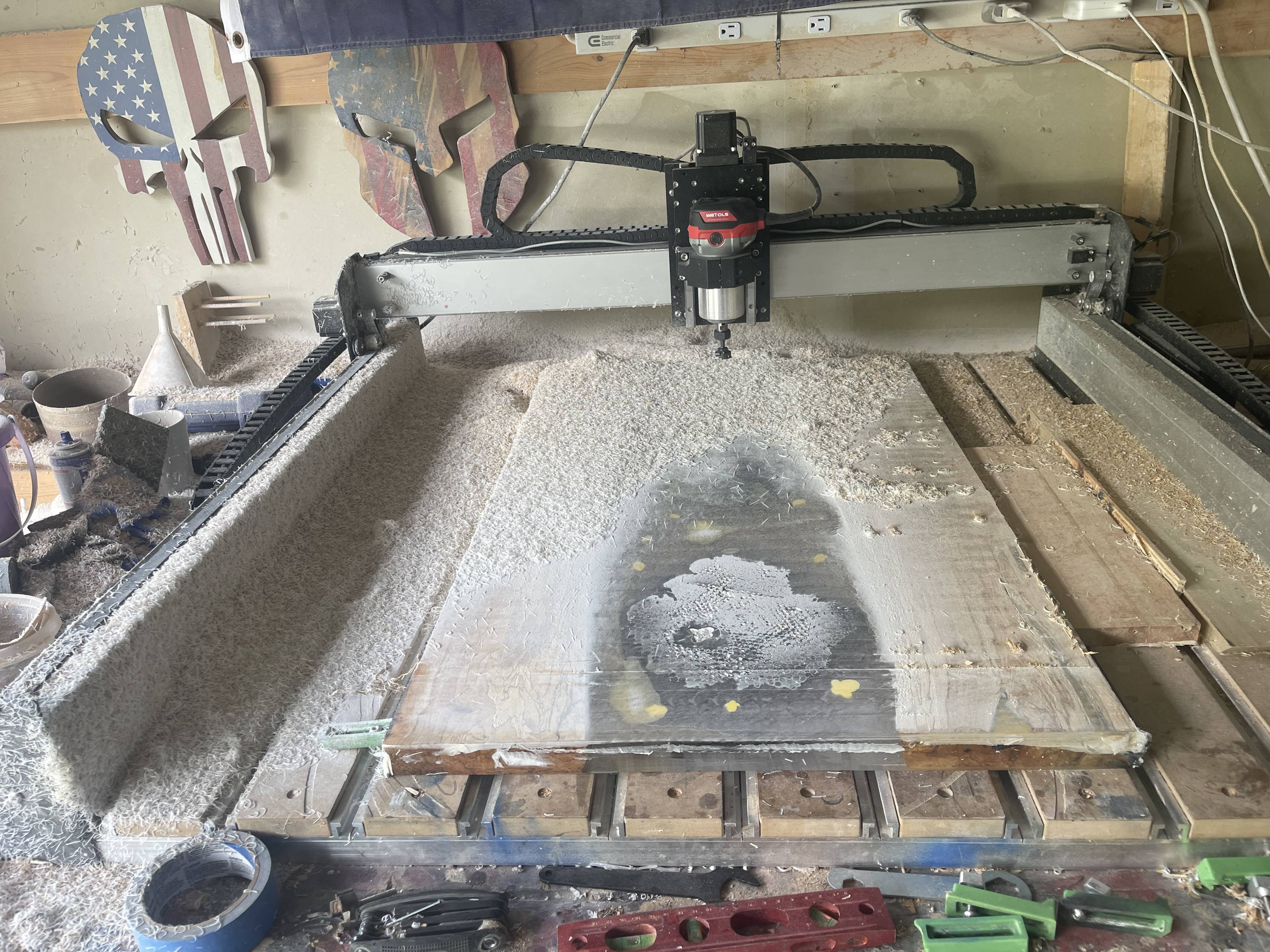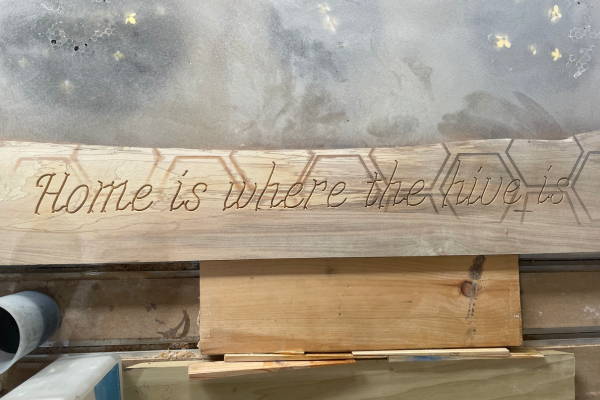 Mixing and Pouring The Top Coat

When preparing to mix your second batch of epoxy for the final pour, it's important to calculate the necessary amount using an epoxy calculator. It's always a good idea to mix a little extra to account for any potential errors or mistakes that may occur during the process. Be sure to use our surface coating Table Top Epoxy for this step.
Our epoxy is supplied in two bottles – one containing resin and the other with hardener. Follow the instructions on the label to measure out the appropriate amounts from each bottle, and then combine them in a mixing cup. Promise Table Top Epoxy has a 1:1 mixing ratio by volume, ensuring simplicity and accuracy. Take your time and stir the mixture thoroughly until both parts are completely blended. Stirring at a slower pace helps minimize the creation of air bubbles in the resin. It's crucial to have a leveled surface for your project to ensure an even settling of the epoxy.
As you work with chemicals, remember to choose a well-ventilated area and use proper protection, such as a ventilator, to ensure safety.
For reference, Berserker Woodwork used approximately 1 gallon of Promise Table Top Epoxy for the final coat. You can learn more about Table Top Epoxy here or watch our video tutorial that provides guidance on how to mix, measure, and pour the resin.
Don't forget to take advantage of our exclusive discount by using the code "BWW" when purchasing our resin.
Finally, install your table legs onto the slabs using brackets and screws. Make sure to level the table before attaching the legs properly. Now you have a stunning honey-themed dining table made using epoxy resin! Add some wooden chairs and honeycomb-inspired decor to complete the look.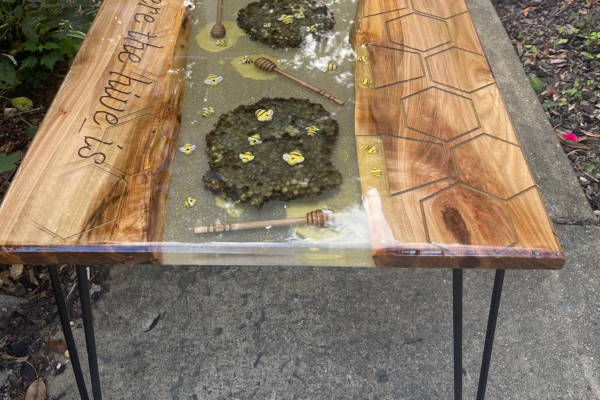 Show Dave of Berserker Woodworks a little love and use his code BWW at checkout for a discount on your supplies order!
Learn More About The Artist
Introducing Dave from Berserker Woodwork, where your custom woodworking dreams come to life! As a veteran-owned business, Dave is dedicated to meeting all of your woodworking needs, no matter how big or small. Not to mention, Dave recently emerged as the champion of the exciting Epoxy Showdown hosted by Makers Challenge Central! Get ready to be amazed by the incredible craftsmanship and personalized service that Berserker Woodwork has to offer.

Check Out His Social Media 👇

Top 5 Woodworking Tips From Dave
1)Trust the process. When I first started out I was very eager and messed things up , didn't take my time and trust the process that was happening. But also using quality products which may cost more as first will save you in the end.

2) Tools. I tell everyone when they ask what do I recommend "the best" tool out there right now is the one you can afford. I know people see videos and pictures of creators out there with all the fancy tools big name brands and that's all well and good , for them. But can you afford it? Do you know what your going to be making? Start small and simple and work your way up.
3) Test yourself and your skills. Constantly think outside the box when trying to create something. Push the limits of your imagination and what you think is possible to do and create. When you do that something awesome always comes out of it . You may not know what it is at first but trust yourself and the process.

4) Ask questions and do research . The best way to learn is ask questions. But that's only going to get you so far eventually your going to have to do it.
5) Just have fun. That's honestly the biggest thing I've learned and best advice I can ever give!