Posted by vlearmont@polytek.com BigCommerce on Sep 29th 2023
Happy International Coffee Day!
For coffee lovers worldwide, International Coffee Day is a special occasion to celebrate the love for this delicious beverage
--------------------------
It is widely known that coffee is an excellent source of caffeine that helps us stay energized throughout the day. However, coffee is also a versatile ingredient that has been used in various artistic forms. From paintings to sculptures, coffee has played a vital role in art. In this blog post, we will dive deeper into the uses of coffee in art and how it can be incorporated into our epoxy resin projects.
Coffee has been an integral part of artistic expression for many years.
In the past, artists have used coffee as a paint medium to create beautiful artworks. Coffee's natural earthy tones and varying shades of brown, combined with its unique aroma, make it a top-choice among artists. In addition, coffee forms interesting textures and patterns when applied to paper or canvas, creating a unique look that is different from traditional paint.



Besides being a medium for painting, coffee is also used in sculptures. One of the most famous coffee sculptures is the "Coffee Break" crafted by the acclaimed British sculptor, Sophie-Elizabeth Thompson. In this astounding artwork, Thompson used coffee grounds along with epoxy resin to produce a vibrant rotating orb.


Using coffee in epoxy resin projects.
Resin coffee coasters and a resin coffee charcuterie board are two popular and amazing projects that can incorporate the essence of coffee into your home decor. The first step is to choose the right epoxy resin. For coasters you want to look for a crystal clear, high-gloss finish that provides maximum durability for the resin project. We recommend Promise Table Top Epoxy.
To create resin coffee coasters, carefully blend coffee beans into the mixed epoxy resin before pouring them into a coaster mold. You can create beautiful blue hues like the ones shown above, or different patterns and textures by experimenting with different colorants such as pigment dyes, alcohol inks, or color changing powders.
You can also create lovely little coffee mug shaped coasters like this one below! Do a quick amazon search for your favorite mold, plan out your colors, pour some resin, let it cure, and you're good to go.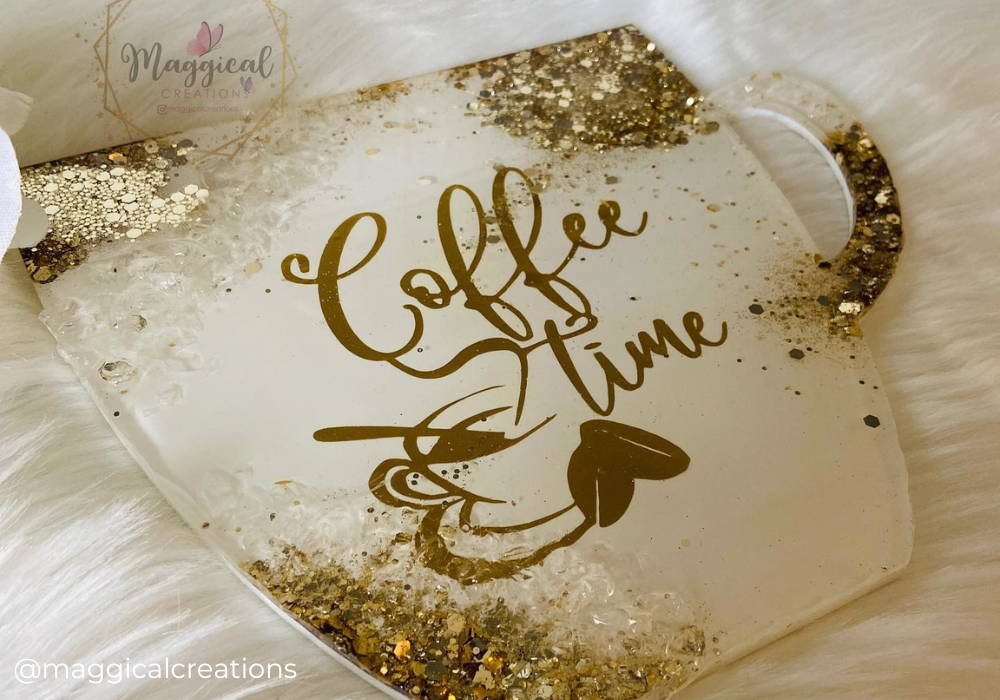 If you're looking to create a coffee themed charcuterie board or river table, you can use your favorite coffee beans as the inclusion in your epoxy resin to create a unique custom design. While you can tint your resin for different effects, we recommend keeping it crystal clear so you can see your coffee beans from every angle.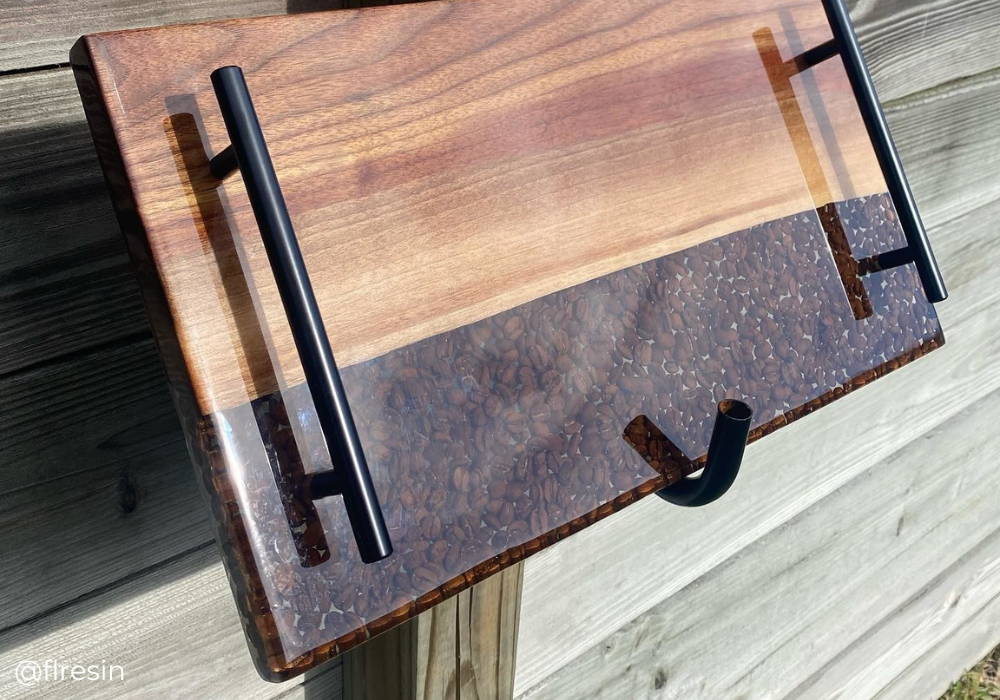 If you're already in love with the idea of using coffee in your resin projects, here's an essential tip to ensure great results. Be sure to follow the epoxy mixing instructions carefully to ensure you get the resin's optimal curing time and a glossy, durable finish. Avoid over-stirring the coffee beans into the resin mixture, as it might create bubbles or uneven surface texture that affects the overall look of your design.

Pro Tip: Always add an extra layer of surface coating epoxy to your charcuterie boards and tabletops for added protection and shine.
The Resin For Charcuterie Trays and River Tables

The delicious elixir we call coffee is more than just a drink; it is an integral part of our artistic heritage and a great fun tool we can use today. By incorporating coffee into our epoxy resin projects, like resin coffee coasters and a resin coffee table top, we can create something truly unique and beautiful. We hope this blog post has inspired you to get creative and try something new this International Coffee Day. Happy Brewing!
Have questions about your project, our products, or just want to chat? Reach out to our customer support team at info@promiseepoxy.com

Like this article? Share it on social media