Discover the Art of Sara from Notso Design Co.
Preserving Florals, Boho Home Decor, and Functional Art
Discover the art of Sara from Notso Design Co. and explore her unique creations that feature dried flowers in resin and other functional art. Sara specializes in preserving florals and creating beautiful boho home decor and functional art made from resin, wood, flowers, and pottery. Her signature pieces include multi-medium oval trays, resin propagation stands, dried floral bookends, and more. Passionately creating boho themed products using dried flowers, wood, pottery, and other mediums is the main goal of Notso Design Co. Sara's specialized expertise lies in crafting propagation stands, resin trays, bookends, charcuterie boards, and more using Promise Epoxy. Showcasing dedication to producing truly unique pieces of functional art, NotSo Design Co brings your own home decor visions to life with the art of using epoxy resin.
USE COUPON CODE AT CHECKOUT
NotSo

Get 10% Off Your Epoxy Order AND Support Sara
Sara uses the dip flower technique to create her pieces. This technique involves dipping dried flowers into resin, and then encapsulating them in epoxy to create a beautiful and unique piece of art showcasing natures finest. Sarah's pieces are perfect example of how you can add a touch of boho style to any home by creating your own gorgeous pieces with dried flowers. Not sure how to properly dry flowers for resin? Watch our tutorial!

Learn From an Expert - Discover the NotSo Design Co Favorites
Notso Design Co is an official Promise Epoxy affiliate, which means you can get 10% off your order when you use the coupon code NOTSO. Get started making your own unique projects with the help of Promise Epoxy and NotSo Design Co.
Amazing Projects From NotSo Design Co

WINE STOPPERS
Each wine stopper becomes a mini work of art, with every petal, leaf, and stem frozen in time. Whether you choose to display them on your wine bottles or use them as decorative accents around your home, these epoxy resin wine stoppers with dried flowers are sure to add a touch of elegance and natural charm to any space.
COFFEE TABLES
The combination of the smooth resin finish and the natural beauty of the materials used, such as wood and dried flowers, creates a stunning focal point that is sure to impress. So, whether you're hosting a dinner party or simply want to add a touch of sophistication to your everyday meals, an epoxy resin serving tray is the perfect addition.
MULTIMEDIA TRINKET TRAYS
Multi-media trinket trays combine concrete, resin, and various materials to create unique and artistic storage pieces for small treasures. These trays feature a mix of textures and styles, with the rough and industrial look of concrete contrasting against the smooth and glossy finish of resin. Both functional and deocrative they elevate any space.
Watch Process Videos From NotSo Design Co.
Save Time & Money With Our Epoxy Calculator
The epoxy calculator helps you accurately estimate the amount of epoxy resin you'll need for your projects, ensuring you don't waste a drop.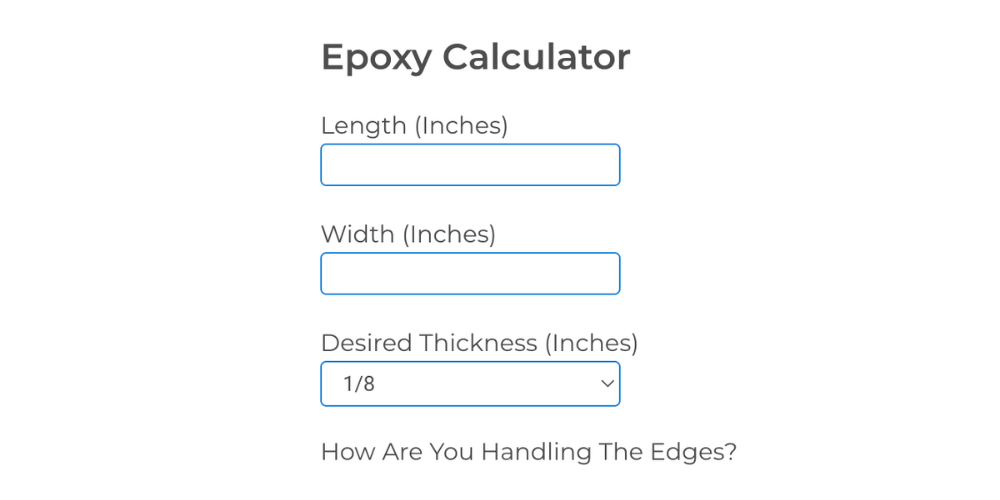 Use the code NOTSO at checkout for 10% off your order.