Unleash Your Creativity with Love of The Grain Workshop's Preferred Epoxy Resin: Promise Deep Pour & UV Art Resin

Get 10% Off Your Order With This Coupon Code
USE COUPON CODE AT CHECKOUT
LOTG10
Welcome to the exclusive landing page for Love of The Grain Workshop! We've teamed up with renowned resin artist Timothy Schwartz to offer amazing discounts on his favorite epoxy resin products, Promise Deep Pour Epoxy Resin and UV Art Resin. Now you too can create unique, eye-catching charcuterie boards, river tables, fractal resin boards, and more with these exceptional resins and learn from Love of The Grain Workshop!
Tim crafts exclusive, one-of-a-kind furniture, home decor, art, cutting/serving boards & more! His woodworking and resin skills are absolutely incredible and this is reflected in his work. In every piece you can see his repurposing skills reflecting antique, mid-century modern and contemporary aesthetics. His signature pieces feature enchanting epoxy resin and creative fractal resin designs to enhance your home decor.
Love of The Grain Workshop is known for creating stunning epoxy resin projects, and now you too have access to the exact products he trusts and uses on a daily basis as well as his informative tutorials and videos so you can follow along throughout the creative process.
Fore more tips and tricks be sure to check out Love of The Grain's social media!
How to Get Started With Love of The Grain's Favorites
Tim from Love of The Grain is an official Promise Epoxy affiliate, which means you can get 10% off your order when you use his coupon code LOTG10. Get started crafting your own unique home decor with the help of Promise Epoxy and Love of The Grain.
Top 3 Tips When Working With Resin
Working with epoxy resin can be tricky so be sure to follow directions closely. The more you take your time measuring, mixing, and pouring, the better off you will be in the long run.
When using deep pour, make your mold water tight and put more time and effort into building it. The better your mold the easier things will be in the long run.
Be creative, have fun, and don't be afraid to try new things! Think outside of the box or mold, so to speak.
Why Do Top Artists Like Timothy Schwartz Choose Promise Deep Pour Epoxy Resin and UV Art Resin?


1. INCREDIBLE DEPTH AND CLARITY
The same trusted formula as the old Incredible Solutions Pourable Plastic and Art Pro ensures you get that perfect clear casting resin finish every time! Promise Epoxy is the rebranding of our previous sister brands ProMarine Supplies and Incredible Solutions.
2. ARTISAN CRAFTED
UV Art Resin is specifically designed as an artisan fast set epoxy, made for artists who demand top-quality results.
Deep Pour Epoxy is specifically crafted for castings, river tables, and deep pours with a high gloss finish and crystal clear consistency.
3. UV PROTECTION
Keep your beautiful epoxy resin wall art and river table projects safe from harmful UV rays with added UV inhibitors in our UV Art Resin formula.
All epoxy yellows over time, but with added UV protection, Art Resin will keep your projects looking their best.
Watch Process Videos From Love of The Grain Workshop
Save Time & Money With Our Epoxy Calculator
The epoxy calculator helps you accurately estimate the amount of epoxy resin you'll need for your projects, ensuring you don't waste a drop.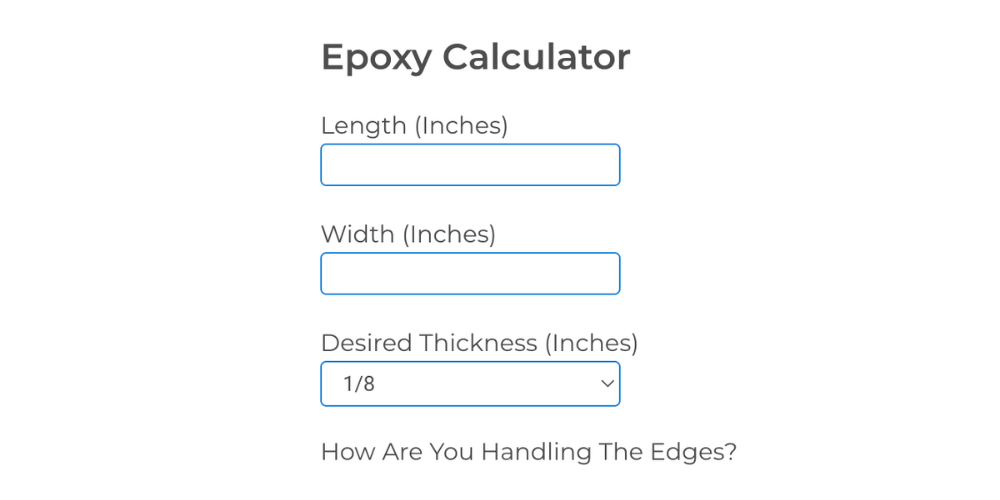 Use the code LOTG10 at checkout for 10% off your order